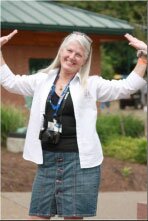 Online Learning From A Teacher's Perspective
Donna Britt is the kind of teacher students dream about having on their first day of school. She is energetic, passionate about teaching, and truly desires to see her students succeed. Ms. Britt has been an educator for 36 years, and has been with Agora for the past four. After spending the majority of her career in brick and mortar schools, Britt says she is extremely happy she made the switch to join the Cyber School.
"I had become somewhat weary of the conditions of the brick and mortar schools," admits Britt. "Students seemed to be running the school and had become much more disrespectful."
"In this model, it feels good to be in close contact with the parents and you feel more like you are aware of the big picture in each student's life," continues Britt. "And that, in turn, makes it much easier to affect our students in ways we may not be able to if we had them in a brick and mortar classroom."
Britt says she also likes teaching at Agora Cyber Charter School because she can provide a more individualized education for each of her students. Without distractions from unruly classmates, students are able to receive their lessons, and any additional help they need from their teacher.
Calling her experience teaching for Agora her most "rewarding", Britt says she has no plans to retire in the foreseeable future. She says her fellow educators, the administrative staff, and her "babies" as she refers to her students, are enough to keep her coming back year-after-year.