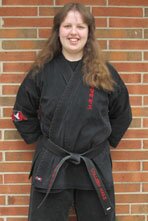 Virtual School Student and Karate Kid

Spending an average of four hours a day practicing martial arts, Colleen has been able to build a schedule that allows her to complete all of her classroom assignments and focus on her sport. "My typical day is composed of school work first, followed by my teaching karate classes, and then taking classes myself," says Colleen. "I spend part of my afternoon preparing and practicing my materials for the evening."

Colleen, who has been a student at Agora for six years, has been taking Taekwondo lessons for six years, and teaching classes for two years. She is currently working towards her Third Degree Black Belt and her next Instructor Collar.

When she isn't doing school work or practicing karate, Colleen likes to go out and be a normal teenager with her friends. She says the time management skills she has obtained as a virtual school student have greatly helped her balance both her school and personal life. These skills will come in handy as Colleen hopes to one day train future black belts by opening her own karate school.